OEM pressure sensor - Model PU1H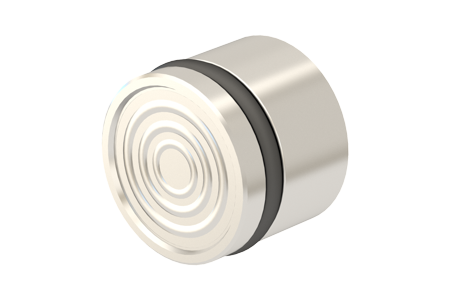 Product description
Featuring a 19 mm (~3/4") diameter and a 15 mm (~6/10") thickness, the PU1H model is the most versatile and the most robust OEM pressure sensor in our product range. It utilizes the latest technologies to provide a highly-accurate, stable and reliable pressure measurement. The larger diaphragm accommodates wider temperature ranges than small diameter counterparts. The thick and sturdy design which has been optimized for the pressures it is dedicated to, protects the internal parts from the external environment and makes it less sensitive to possible harsh constraints.
The sensor integrates a solid-state, piezoresistive MEMS silicon die which acts as the sensitive element and converts pressure into an electrical signal. Using advanced techniques of MEMS fabrication (like wet etching, anisotropic etching), a thin diaphragm is crafted inside the silicon die. The thickness of the diaphragm is individually adapted to each pressure range so as to get the highest possible sensitivity without breaking under full pressure load.
Thanks to the monocrystalline structure of the silicon, the pressure sensor exhibits no measurable hysteresis and provides an excellent repeatability, making it highly reliable and highly precise over years of operation.
Besides being very cost-efficient and well-suited for mass production, the silicon monolithic structure withstands overpressures to twice the pressure range without damage or effect on the future performance of the sensor and has a life expectancy of tens of millions of cycles. The sensor is also highly sensitive, exhibiting a high signal with a low power excitation, which is ideal for battery-operated systems.
For protection against media and for ease of integration, the silicon die is mounted and wire-bonded on a glass feedthrough (header) and integrated into a high quality, hermetically-sealed, fully-welded 316L stainless steel enclosure. The housing is filled with a silicone oil and closed by a very thin 316L stainless steel diaphragm, both reliably transmitting the pressure to the die while isolating the latter from the media.
Each sensor is individually tested under various harsh environments and conditions as part of our stringent quality procedures. Each sensor must pass all tests in order to be delivered. An individual calibration report can be delivered with the sensor upon request.
Physical characteristics

Pressure range

0 to 20 bar through 0 to 200 bar

Pressure type

✔ absolute

✔ sealed gage

✔ compound

Vacuum

possible, down to 1 μbar absolute

Safe overpressure

1.5 x

Burst pressure

2 x
Environmental characteristics

Storage temperature

-40 to 125°C

Operating temperature extremes

-40°C, 125°C

Maximum operating temperature span

160°C

Ambient temperature

-40 to 125°C
Electrical characteristics

Power supply / excitation

between 0.5 mA and 2 mA (1 mA typ.)

Typical output signal

0 ~ 150 mV

Bridge resistance at 25°C (77F)

between 2.5 kΩ and 4.5 kΩ
Mechanical characteristics

Electrical connections

pins, leads, wires, connector

Mechanical connections

⌀19mm

Materials available

316L Stainless steel, Hastelloy, Titanium

Seal materials available

FKM, EPDM, Silicone, NBR
Performance (depending on temperature compensation range)

Type of compensation

uncompensated
resistors
polynomial

Compensated temperature range

-

-10 to 80°C

-10 to 80°C

Linearity

±0.25%FS

±0.25%FS

±0.05%FS

Hysteresis

±0.005%FS

±0.005%FS

±0.005%FS

Repeatability

±0.005%FS

±0.005%FS

±0.005%FS

Zero offset

±20mV

±2mV

±2mV

Span offset

±0

±0

±0

Temperature drift of Zero

±0.25%FS/K

±0.01%FS/K

±0.01%FS/K

Temperature drift of Sensitivity

±0.03%/K

±0.03%/K

±0.03%/K

Stability (per annum)

±0.1mV

±0.1mV

±0.1mV
All values are typical values.